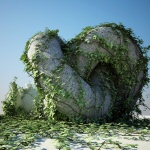 Make giant dogturds look dignified.
One of my personal favourites, wish I had more opportunity to be using it.
Ivygen
generates realistic vines and ivy which grows procedurally over another model of your choice. Set stem and leaf size and density to create the look you want then simply seed and watch it grow. Absolutely beautiful results, too high rez for games but can be useful in texture creation...